TEXAS UPSCALE HOMES
"UPGRADING HOMES FOR BETTER LIVING"
Upgrading Homes for Better Living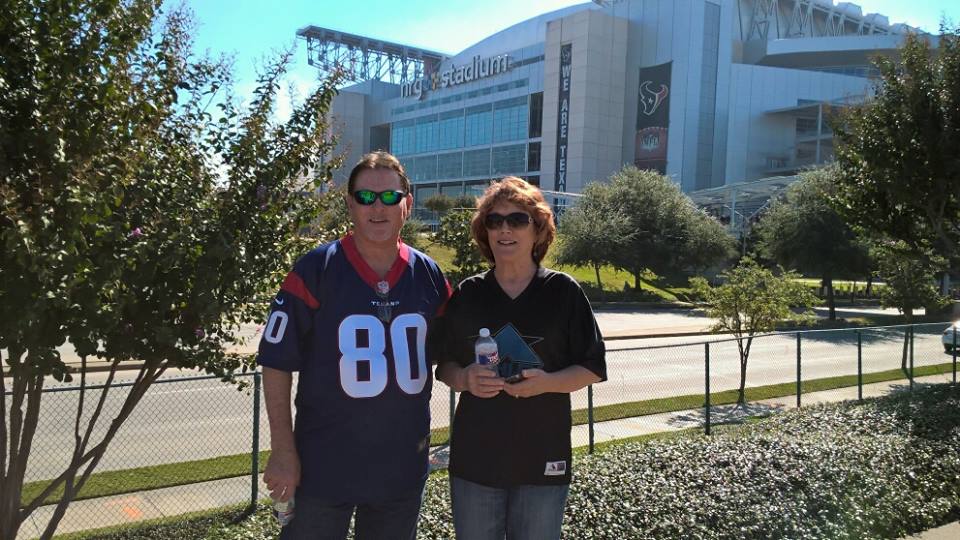 Hello, I'm Dave Hubbard, realtor/Investor and this is my wife Roberta and we are so excited you have decided to view texasupscalehomes.net. This is our personal website where we get to introduce ourselves to you. I am a realtor for Texas 1st Choice Realty . My office is located at 326 9th Avenue N Texas City Texas and my office phone is 409-354-9581. I have been a realtor for over 11 years and have just started into the real estate investment business. Standing beside me is Roberta who is also in the Real Estate investing business. She is currently employed at Texas City ISD as a computer lab technician and has been there for 30 years. Please make yourself as comfortable as possible as we have many things for you to view. If you are needing to get pre-approved for a home mortgage, just ask us about that and we can set you up with some expert lenders.
If after navigating around on the website and you still have questions, please contact us at 409-354-9581 or email us at dave.texasupscalehomes@gmail.com.
We are looking forward to working with you.
WE ARE TEXAS STRONG!
Facing Foreclosure? We can help!
It's important to know your options and understand all the potential solutions that may be available to help you avoid foreclosure. It's also important to understand what can happen if you fail to take action and foreclosure becomes unavoidable. The process can be stressful, embarrassing, and it can have long-lasting consequences. Walking away from your home voluntarily, may seem like the best solution when your home is valued lower than what you owe. However, this action may lead to financial consequences in the future. In some states, you may be required to pay a portion of your mortgage debt even after the home has entered foreclosure. Also, the impact to your credit may make it difficult to rent or purchase a home in the future. It may be best to explore other options to foreclosure with your mortgage company before making a decision to leave your home. At Texas Upscale Homes we have 15 options for you to choose from in helping you make the right decisions in what to do with your foreclosure and in some cases make that foreclosure completely go away. Call us today for a consultation but do it quick because time is not on your side.
TEXAS UPSCALE HOMES
WANT TO SELL YOUR HOUSE FAST!
We are local realtor/investors in your area and are very interested in buying your property. We have two options to offer you.
Option 1: We can make a cash offer, pay all closing costs except liens and back taxes, and close quickly. In fact you will not even have to do any repairs or cleanups. The best part is you pay absolutely nothing in commissions to sell your home. Also if you are facing foreclosure, then call us and set up an appointment so we can help with that.
Option 2: As a realtor sponsored by Texas 1st Choice Realty, I can list your home on the internet with Multiple Listing Sevices such as Har.com, Zillow, Trulia, and many others and our own personal website at "texasupscalehomes.net." This way your home will be seen by thousands of people. We will do a Market Analysis on your home to give you the most competitive price in the area. We do all the advertising and marketing techniques to sell your house as quickly as possible. This option will cost you 6% of the selling price and ask you to sign at least a 6 month contract with us.
If you are interested in either option then please fill out the Lead Sheet below and then hit Submit and the information will be sent to us. We want to work with you to make this the easiest transaction as possible and put the most money in your pocket.
GOD'S WORD OF THE DAY:. . . - 1 Thess. 4:13-18
"13 But I do not want you to be ignorant, brethren, concerning those who have fallen [b]asleep, lest you sorrow as others who have no hope. 14 For if we believe that Jesus died and rose again, even so God will bring with Him those who [c]sleep in Jesus. 15 For this we say to you by the word of the Lord, that we who are alive and remain until the coming of the Lord will by no means precede those who are [d]asleep. 16 For the Lord Himself will descend from heaven with a shout, with the voice of an archangel, and with the trumpet of God. And the dead in Christ will rise first. 17 Then we who are alive and remain shall be caught up together with them in the clouds to meet the Lord in the air. And thus we shall always be with the Lord. 18 Therefore comfort one another with these words."
New King James Version (NKJV)
---
Reasons to Sell to an Investor
.
There are many reasons why a motivated seller may turn to an investor to buy their house. In the current economy job losses, foreclosures, and other financial woes are putting immense pressure on homeowners to sell, and sell fast. Selling to a real estate investor in your area could reduce your stress and ease the process of selling your house. The first and most obvious thing a real estate investor can offer you is speed. They typically know what they're looking for and can give you an offer themselves on the spot. The second thing most real estate investors market about themselves is convenience. They see buying your house as offering you a service, and as a result are willing to work around your schedule. You won't need stay on call, prepared to leave your house at a moments notice for a realtor. Investors have flexible schedules. Because this is their job, they'll be able to work around your schedule. Perhaps the most financially rewarding benefit of selling to a real estate investor is the ability to sell as is. This is the primary motivator for many home sellers who decide to take this route. Generally there are no repairs to be made, investors pay all closing costs, and an investor can usually close within 10 days.
We are an Equal Housing Opportunity company
The mission of the Office of Fair Housing and Equal Opportunity(FHEO) is to eliminate housing discrimination, promote economic opportunity, and achieve diverse, inclusive communities by leading the nation in the enforcement, administration, development, and public understanding of federal fair housing policies and laws. FHEO protects people from discrimination on the basis of race, color, religion, sex, national origin, disability, and familial status. In addition, housing providers that receive HUD funding, have loans insured by the Federal Housing Administration (FHA), as well as lenders insured by;FHA, may be subject toHUD program regulations intended to ensure equal access of LGBT persons.<
IMVESTORS GUIDE TO A DISTRESSED PROPERTY?
If you haven't heard of distressed property investing before, now is the perfect time to learn. Distressed properties serve as the source of some of the best deals to be had on the market, and can be found in many different forms. What is a distressed property? Distressed property is any property that is under foreclosure or being sold by the lender. Normally, a distressed property is a result of a homeowner who was unable to keep up with the mortgage payments and/or tax bill on the property. It is common for a distressed property to be sold below market value. Deeper definition Not all distressed properties have been repossessed due to late payments. On occasion, lenders, banks and credit unions seek to repossess a property to protect their investment. Lenders may take this action due to other claims being made on the property or due to a discovery of mortgage fraud. There are at least two good reasons to buy a distressed property: Price. The below market value price on a distressed home allows those who might not otherwise be able to afford a particular neighborhood to buy there. Potential profit. If you buy a distressed property at a good price and know which repairs and updates will add the most value, it is possible to build equity and sell at a profit.
THE HOUSING MARKET SHOWS NO LETUP IN 2020
HOUSTON — (January 1, 2020) — Continued low mortgage interest rates kept consumers in a buying mood in 2020, powering home sales to a fourth consecutive positive month. According to the latest monthly report from the Houston Association of Realtors (HAR), sales of single-family homes across the greater Houston area totaled 7,231 in October. That is up 8.1 percent compared to a year earlier. On a year-to-date basis, home sales are 4.2 percent ahead of 2018's record volume, making it ever more likely that 2019 will establish a new record for local real estate. Single-family home prices set new October highs. The median price (the figure at which half of the homes sold for more and half sold for less) increased 2.1 percent to $239,900 while the average price rose 1.3 percent to $298,354. Despite the record prices, the increases are among the smallest of 2019 and reflect signs of pricing moderation as the year draws to a close.